Custom Wine Blending Workshop
The only thing more important to winemakers than having world-class grapes is creating a perfectly "blended" wine.
What is blending? Here are some facts to help explain:
Almost all wines that you enjoy today are made from at least 2 or more grapes (called Varietals – i.e. Cabernet Sauvignon, Merlot, Malbec, Pinot Noir, etc.)
For Example: Wines from France are labeled as a "Bordeaux, Burgundy, Champagne, etc". The Reason? These are the regions the grapes come from! But the wine itself may be made from 5 or more different varietals from that area.
Just like your favorite meal – more ingredients often make for a more complex and better flavor! We'll help you put these grapes together, step by step, until you've achieved the ideal blend for your taste.
Best of all… we buy our grapes directly from the growers and vineyards themselves – Eliminating the "middle-men". This allows us to keep our quality high and keep our prices 50% lower than typical retail stores or clubs.
We spend our time finding the most amazing grapes the world has to offer – this means you'll have UNLIMITED potential
to make a wine that's just right for you! Plus, with the WORLD as our vineyard – there's no need to sell you on what we grow… we just get you what you really want. Because you shouldn't have to be told what you like, and you shouldn't have to settle for what someone else thinks is good.
So if you think you are a Cabernet Sauvignon "kind of person" we'll try you on our best! Want it to be a little more rich? Smoother? A little softer? More fruit? Or a little more on the 'earthy' side? Perhaps you just want to make a wine that will go with your favorite meal? We'll help you with this and more… After all – you're in the driver's seat here!
This is a lot more fun than shopping "via pretty label" at a liquor store, a lot more informative and the per bottle cost… can be up to 50% less than retail! You even get to bottle your own wine AND design custom labels for the bottles, how much fun is that??
---
We believe each person is unique.
The "Wine-a-Verse" doesn't need to be intimidating or inaccessible. We believe your experience should be positive, informative and interactive! We believe you should get more for your dollar and we believe in your power to choose what you want. Besides, our staff needs to "geek-out" about wine like most people need food, water and air!
Sometimes it's good to be "The Little Guy" – Just think of us as the Village Winemaker: We make wine for our community and don't plan on shipping across the world at large; meaning we don't need to alter it with stabilizing additives that give people headaches! And while the grapes come from all over the world – Every batch of wine is produced here in Cheyenne Wyoming, using proven, time-honored artisanal methods. So enjoy your beautiful, healthy and locally made wine –  Italian Style!
SIGN UP NOW for your Blending Workshop at Vintages and get ready for a new LOVE of an age-old tradition and art.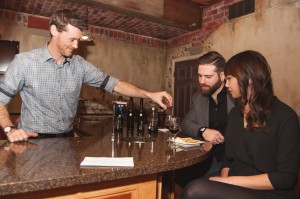 Tastings are only $50 a couple… with the option to put that $50 towards a case or more of your very own custom wine! That means the tasting is included when you purchase your first (or more!) case of custom-made wine! Who doesn't like free tastings?
It's also a free (and fun!) experience when you come back to bottle your wine. You don't have to, but we recommend it!
To get you the individual attention you deserve, we work on a reservation basis. Reserve YOUR spot over the phone or contact us online.
Don't forget you can even make Custom Labels! – Perfect for mementos, weddings, and corporate events.